Activities
Trekking In North Bali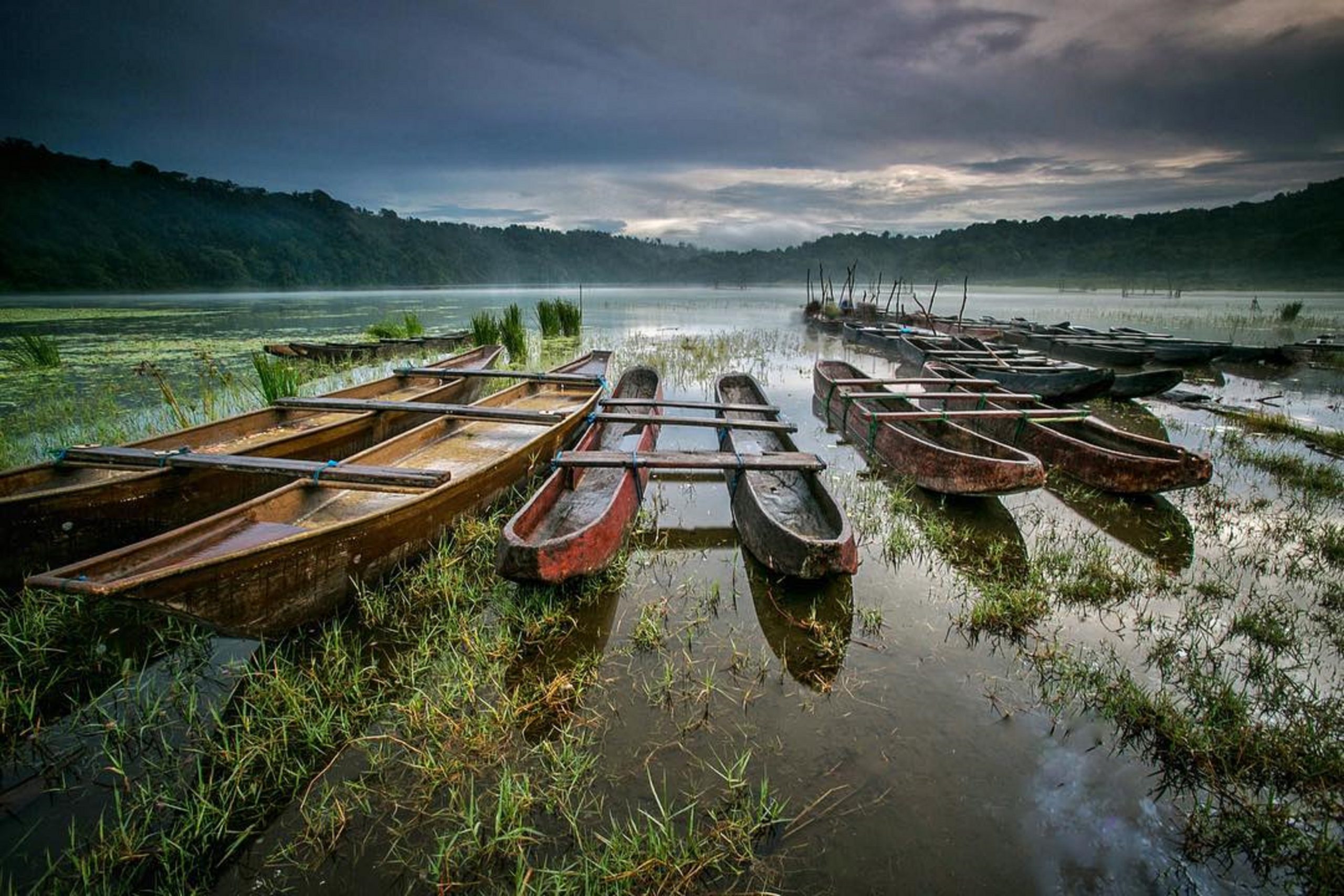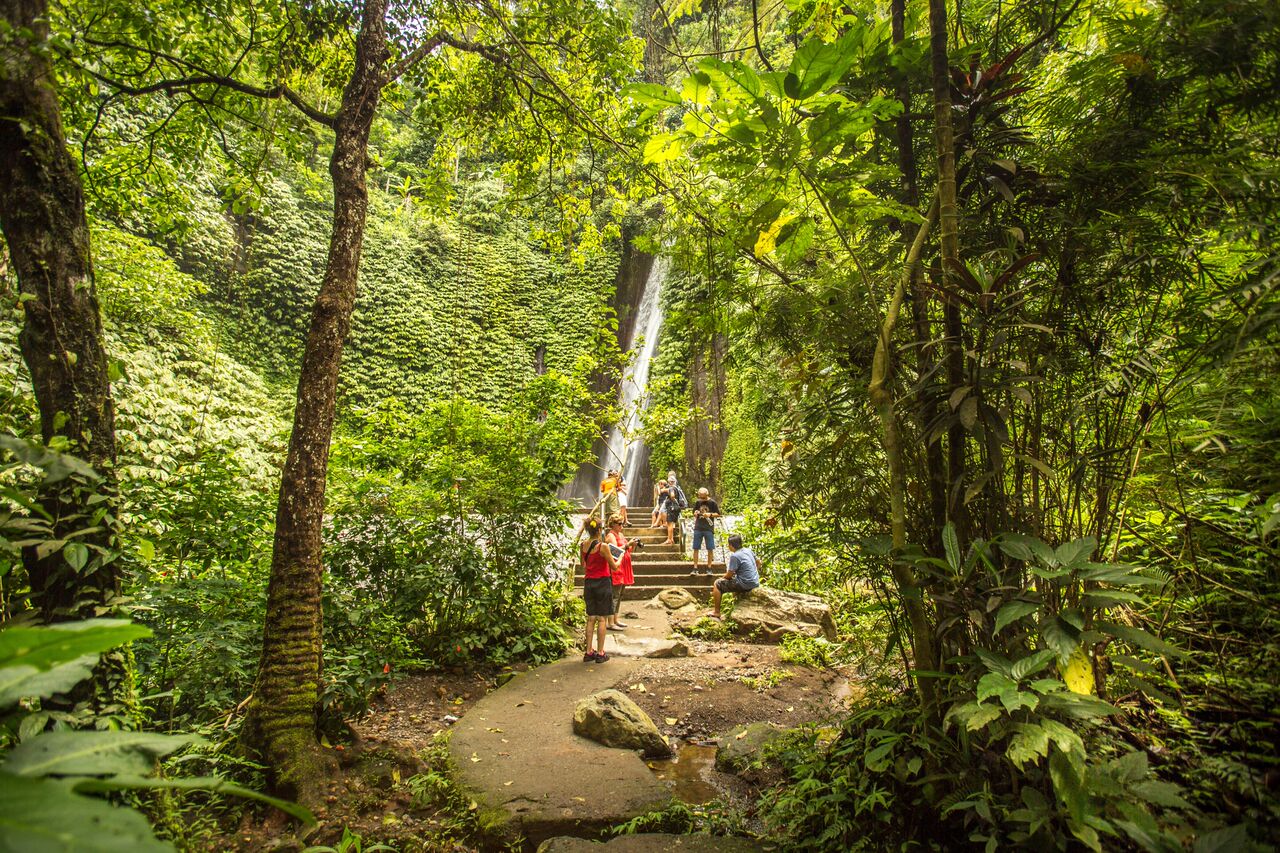 Munduk Coffee Experience – A behind the scenes look at traditional Bali coffee production
Munduk Organic Coffee Plantation was established by a Balinese and European team working in partnership to bring back high quality coffee to Bali's central hills region. Our mission includes generating good incomes for farmers, protecting the environment and supporting the local community, while making exceptional coffee.
Join an immersive deep-dive visit to our coffee plantation, consisting of the following unique activities:
Learn about growing, maintaining and harvesting coffee
Visit the processing facility and learn all about our coffee processing techniques
Observe a traditional coffee processing demonstration and a modern roasting session as well as learning about the roasting process
A cupping session where you will sample different types of Munduk coffees including our Espresso Blend, Honey Single Origin Arabica, Single Origin wet-processed Arabica, and Sun-dried Single Origin Arabica.
At the end of the visit, you will receive a 100gm bag of our Premium Breakfast Coffee.
Duration: 1 to 2 hours.
Free of charge.
Vegetable Garden Deep-Dive Experience
Munduk Moding Plantation proves that a hotel can provide a fully luxurious guest experience while implementing environmentally friendly practices. We offer a unique approach to hospitality inspired by our natural surroundings. MMP is not only a working coffee plantation, but we also grow a wide variety of vegetables and herbs. We proudly practice sustainable agriculture on the plantation and garden.
This practice allows our restaurant and kitchen team the advantage of providing an organic meal experience as often as possible. This is also in line with the typical North Balinese cuisine that relies heavily on the abundance of fresh vegetables that are often blanched, preserving their taste, which is naturally very healthy. Guests are provided with a glimpse of what we grow in the garden, explanations of their functions and use in MMP's restaurants during this informative activity.
On this tour, you will have the opportunity to identify different tropical vegetables and herbs, interact with our young farmers and participate in activities such as preparing and planting seedlings, and harvesting your very own fresh veggies. At the end of the session, you are welcome to request one of our chefs to prepare your favorite salad from the vegetables you have picked from the garden that you can enjoy at lunch or dinner.
Duration: 1 to 2 hours.
Free of charge.
Sustainability Tour
Munduk Moding Plantation is built on an organic coffee plantation. We are trying to preserve as best as we can, the natural resources and the beautiful landscape in this area which, when compared to south Bali, has limited international tourism. We have embarked on a journey to improve our hotel's efficiency day by day and year after year in order to reduce our impact on the environment to the maximum extent.
We were one of the Green Globe's earliest members in Bali and work with Bali's premier green networks such as Book Greener and The Punch Community. Over time, our goal is to reach carbon neutrality in our operations. We have fully involved our staff in this decision and also provide information to our guests who are invited to participate in these initiatives.
Join this enlightening sustainability tour and you will be introduced to several key pillars that we focus on.
WATER: We harvest rainwater which provides a significant proportion of our water needs. Waste water is processed in our Waste Water Treatment Facility (WWTF). The water produced by the WWTF is clean enough to be used to water our plantation.
WASTE: All MMP waste is sorted. Organic waste is composted and used to fertilize the plantation. Single-use plastic is banned on our property. We process used cooking oil and some types of plastic to produce items such as candles and amenities for our hotel.
ENERGY: We operate the largest solar electricity facility in our region and are studying how to install a micro-hydro plant. Regular energy audits and efficiency drives have cut our energy consumption even as MMP has grown. We aim to reduce energy consumption by 5% annually.
AWARENESS: Staff are trained in environmental management issues and our Sustainability Manager is responsible for promoting sustainability across all of MMP's operations. Our Green Team reaches out to the local community and schools and encourages them to participate in our green activities such as regular clean ups of nearby lakes and waterfalls.
GUEST PARTICIPATION: We offer a number of environmental workshops to our guests and MMP welcomes all suggestions on how our sustainability practices can be improved.
At the end of the tour, you will have the opportunity to experience our sustainability practices through participating in our environmental workshops or social activities. Please choose one of these workshops:
Candle making from used cooking oil
Bamboo straw making
Handicraft making from used paper
Healthy drinks workshop
Participate in our English classes offered to kids from the Gobleg area. The kids are asked to bring in recyclable products such as plastics and glass to encourage sustainable practices from a young age (available every Sunday from 2:30 to 3:30 p.m)
Duration: 1 to 2 hours.
Free of charge.
A. EASY
Walk Around the Plantation
MMP's site is one of the best mountain areas on the island. It is located on the edge of a plateau above three breathtakingly beautiful lakes. The almost five hectares hilly but very fertile soil allows just about every tropical tree, plant, flower or vegetable to grow easily. We believe this maximum one and a half hour trekking on our 3 miles walking path will be an excellent introduction to the island's flora and you are guaranteed to spot some of the indigenous birds. A short introductory guided walk is offered to every new guest on the plantation. Longer, self-guided, walks can be taken at any point in time.
Duration: 45 minutes to 60 minutes.
Free of charge.
Get to know our neighbours
An easy walk around our neighbourhood on the the plateau of Gobleg the small plantations surrounding MMP. You will make a stop at one of our neighbour's houses and have an opportunity to see the way they live. You will have a chance to see their garden, their animals and have a short introduction to their daily routine accompanied by a cup of local coffee or tea.
Duration : 1 - 2 hours.
Price : IDR 375,000 for up to 4 persons
Banyumala Waterfall
This exciting trek takes you through a number of plantations, growing coffee, mandarins, vegetables, flowers - to name but a few. You'll also pass some different bamboo groves. After a while, the land becomes less cultivated and you enter a forest. There are many panoramic sights to enjoy after which you will reach the Banyumala waterfall where you can swim in the fresh mountain water. This waterfall consists of a number of streams pouring down various rocks with a vertical drop of more than 25 meters. There is a beautiful and very clean lake surrounded by dense vegetation. Cicadas are often serenading the visitors of this fall who on a warm day find the water a great way of cooling off. Afterwards, you venture further in a local village where you are picked up by car for a nice breezy ride back to MMP.
Duration: 2 - 3 hours.
Rate: IDR 600,000
Trekking Around Pristine Tamblingan Lake
We will start to trek from the rim of crater which is covered by the rainforest area of Lake Tamblingan. The first part of this hike takes us deep into the rainforest as descend towards the lake where we get to enjoy the amazing flora and the unspoiled landscape (many of the trees here are hunderds of years old). As we get closer to the lake, we stumble upon a number of temples situated around Lake Tamblingan. These are intimate temples situated in beautiful nature which are very quiet. We then arrive at lake where one can take a canoe ride round the lake at the end of the programme (charged separately). Alternatively, we hike around the shore of the lake to the jetty where the canoes are kept. Guests will be picked up from the parking area and transported back to the hotel. Enjoy the nature, the simple fisherman's life on the lake and some beautifully situated temples.
Duration: 2 - 3 hours
Rate: IDR 450,000 no canoe trip, IDR 600,000 with canoe trip
Margalangu Waterfall
Margalangu, which translates as "path to seek happiness" is the name of an area near MMP where many natural springs are located.Your hike will start from the resort towards the main road about 500 meters away. This beautiful hike will continue to a small pathway that descends towards a residential area of the local village, surrounded by dense vegetation, flowers, and coffee plantations. After a 60-minute hike, you will arrive at the mesmerizing Margalangu waterfall, tucked away in the unspoiled natural beauty of North Bali. This hike will take approximately 2 to 3 hours. This enchanting activity should be on everyone's bucket list when staying at Munduk Moding Plantation.
Duration: 2 - 3 hours
Rate: IDR 525,000
Note : All prices are for a group for up to three people. A hat and proper walking shoes are recommended.
B. MODERATE
Empelan Waterfall
Starting from MMP you will be walking through orange and flower plantations before descending to a plateau filled with millions of old clove and coffee trees. When you finally arrive at one of Bali's most magnificent waterfalls, a cold breeze from the spring water fall welcomes you. From the finishing point you will be transported back to MMP.
Duration: 2 to 3 hours.
Rate: IDR 600,000
Waterfall, Plantation and Rice Paddies Trekking
Starting from MMP you will be walking through orange and flower plantations before descending to a plateau filled with millions of old clove and coffee trees. When you finally arrive at one of Bali's most magnificent waterfalls, a cold breeze from the spring water fall welcomes you.
Optional above trekking can be combined with the following extension
From the tranquil waterfall in the surrounding of MMP, you will be picked up at the Waterfall's parking area and transported to the vast paddy fields in the Munduk Area which you can explore at your leisure.
Duration: 3 - 4 hours.
Rate: IDR 675,000.
Twin Lake Buyan and Tamblingan
After twenty minutes driving, you will be entering a lush protected rainforest area with giant old trees, animals such as macaque monkeys, black giant squirrel, birds and old temples. You'll then walk along the shore of this lake situated in the caldera of an extinct volcano. This also includes a session of forty five minutes exploring the Tamblingan Lake by dugout canoe. At the finishing point, you will be picked up by and transported back to MMP.
Duration: 2 - 3 hours.
Rate: IDR 900,000.
(Price for 2 participants. Additional participant will be charged IDR 75,000).
Waterfall Bonanza
Starting from MMP you will first see the Golden Valley Waterfall followed by the Munduk Waterfall (waterfall with a dam) and finally you will see waterfall named Melanting Waterfall. Take your swimming trunks if you'd like to swim in the cool mountain water.
Duration: 2 - 4 hours.
Rate: IDR 675,000.
Secret Waterfall Trilogue
The programme starts from MMP from where we will drive you to a temple named Pucak Manik in the village of Wanagiri - some 15 minutes from MMP. From there, you will descend through forest and coffee plantations before you will see the one of the least visited waterfall systems on the island comprising a trilogue of stunning falls, named Dedari, Canging and Cemara. Cemara is presumably the biggest waterfall on the island. The adventure will end with a hike back to the temple where the programs started after which you return to MMP.
Duration: 3 - 4 hours.
Rate: IDR 675,000.
C. STRENUOUS
PUCAK MANGU
We climb to the peak of one of Bali's highest mountains surging 1.900 meters above the sea level. It has a magnificent Hindu temple situated in the rainforest covering the mountain. This is an exhilirating hike which will offer you great satisfaction. When hiking through it from MMP you will be transported to the foothill to start the hike. At first, there will still be some remote farm houses, but then you penetrate the dense rainforest. The trip to the peak will usually take three or four hours. A picnic lunch at the summit is provided. After the descent you will be transported back to MMP.
Total duration: 6 - 7 hours.
Rate: IDR 1,050,000.
JATILUWIH
Starting from a fisherman village at Lake Tamblingan, the smallest lake in Bali, situated in the caldera of an extinct volcano, you will hike through the dense rain forest and through valleys overlooked by Bali's central mountains. This route is not often travelled and you'll be accompanied by a second specialist guide who will often hack away the dense growth with his machete. This is MMP's most strenuous hike for which you are richly rewarded when you exit the rainforest as the other side of Bali's central mountains and before arriving in the breathtakingly beautiful Jatiluwih valley and village. This village is well known for its beautiful landscape consisting of what many consider to be Bali's most beautiful rice terraces. A snack will be provided during this hike which rewards all the senses. From there you will be transported back to MMP.
Duration: 7 - 9 hours.
Rate: IDR 2,085,000
Full Day Nature Immersion and Waterfalls Bonanza
This exciting trip starts from MMP where you will be dropped to the Banyumala Waterfall's parking area and head straight to the valley of Banyumala Waterfall. This waterfall has a 15 meters-diameter natural pool which is one of the best spots for waterfall swimming in Bali. Banyumala waterfall is also one of the most scenic waterfalls the Island has to offer and therefore one of our guests' favourite. After enjoying the natural beauty and coolness of this waterfall, the journey continues to the Pucak Manik Waterfalls - still largely unexplored but a real gem. After trekking for a while, you will be amazed by the three stunning waterfalls which dominate the area of Pucak Manik. Its gorgeous nature far from the hustle and bustle of tourism will not fail to impress you and you can benefit once again from a little swim in its natural pool. Finally, the journey heads to the Aling-Aling waterfall. This waterfall is more famous and offers those who wish to boost their adrenaline levels some great opportunities to engage in a wide range of activities. Extra charges for some activities might apply.
Duration: 5 - 7 hours.
Rate: IDR 1,800,000.
Note : All prices are for a group for up to three people. A hat and proper walking shoes are recommended
OTHER ACTIVITIES
Paddy Fields
This trek is a great introduction to the vastness of the paddy rice fields in Gobleg, Munduk and Gesing. You will get to witness local farmers tending to their crops in their fields and the agricultural water system managed by local co-operations to ensure that the paddies are all watered - called the subak - which is unique to Bali. As you move through the fields you will notice the subtle differences between the three villages and you cannot miss the harmonious way of living of the locals.
Duration: 2 - 3 hours.
Rate: IDR 675,000
Visiting Schools around MMP
MMP is situated in an area where most of the inhabitants are farmers. This highland is cultivated by our neighbours who grow vegetables, fruits, flowers, coffee, and cloves. In the vicinity of MMP, there are two schools - one elementary school and one junior high school - which help the children from the area, whose parents are mostly farmers with little formal education, to study and develop their skills. Our neighbors are very welcoming to those who wish to visit their village and schools. Guests will be able to see how the kids socialize and visit the class room to see how the classes are taught. Children from our area are typically very friendly and smiling once they meet tourists, yet still shy due to their lack of English. By joining this program, guests can inspire them and motivate the kids to acquire knowledge for their development.
Duration: 2 - 3 hours.
Rate: IDR 375,000
Note : Note: All prices are for a group for up to three people
SEASONAL
Paddy Planting
On this program, we will take you around to observe the farming activities in the surrounding areas. It will also provide you with a glimpse of the traditional farming and that has been practised for centuries. In Munduk, paddy planting employs a lot of people as it is done in a conventional way where the farmers help each other. In spite of its long process, the traditional farming techniques are still being used since the area in which the farmers plant the paddy is located in the hills and mountains which are unreachable by machine. This makes it really interesting to observe as you will be introduced to Munduk's simplest and most authentic way of life.
Duration: 2 - 3 hours.
Rate: IDR 525,000
Clove Harvest in Munduk Area
The Munduk area is well-known because of its coffee and clove plantations. Nowadays, most of the inhabitant prefer the production of cloves since it generates bigger revenues than coffee given today's market prices. In fact, cloves are also more profitable than other commodities which which is why farmers are increasingly turning to cultivating clove trees. In Munduk, you will be able to inspect cloves harvest beginning from June to October each year. The harvest is conducted in a traditional manner, involving tree climbing and the use of nets, that employs a lot of people similar to paddy planting. This program will allow you to observe and participating in the harvest itself by taking part in picking and climbing the clove trees with the farmers. At the end of the program, farmers will show you how they dry the cloves under the sun after being harvested.
Duration: 2 - 3 hours.
Rate: IDR 525,000
Note: All prices are for a group for up to three people
Coffee Harvest at MMP
The coffee harvest at MMP takes place from May until August, depending on the year, and involves the picking, drying and processing of our organic Robusta and Arabica beans. If you are staying at a working coffee plantation, you should not miss out on discovering where the coffee you consume back home comes from and how it is produced. To this end, you can join our farmers to harvest coffee from our own plantation, transport and dry it as well as participate in the wet processing at the end of the day. If you so wish, you can also assist in the manual sortation of the dry beans. Our colleagues from Munduk Coffee can put together a program for you tailored to the time you have available and the aspects of coffee processing you are most interested in. This can be taken in different blocks over the course of a day, allowing you to relax in between. For example, you could join our farmers picking some beans in the morning and help them dry it. You could then join the team in the early evening to participate in and learn about the wet processing and finally assist with manual sortation. The programme can then be completed by sampling some of our coffees at our roastery.
Duration: 1 - 2 hours.
Free of Charge.
*All rates are subject to 21% tax and service charge.
Other Activities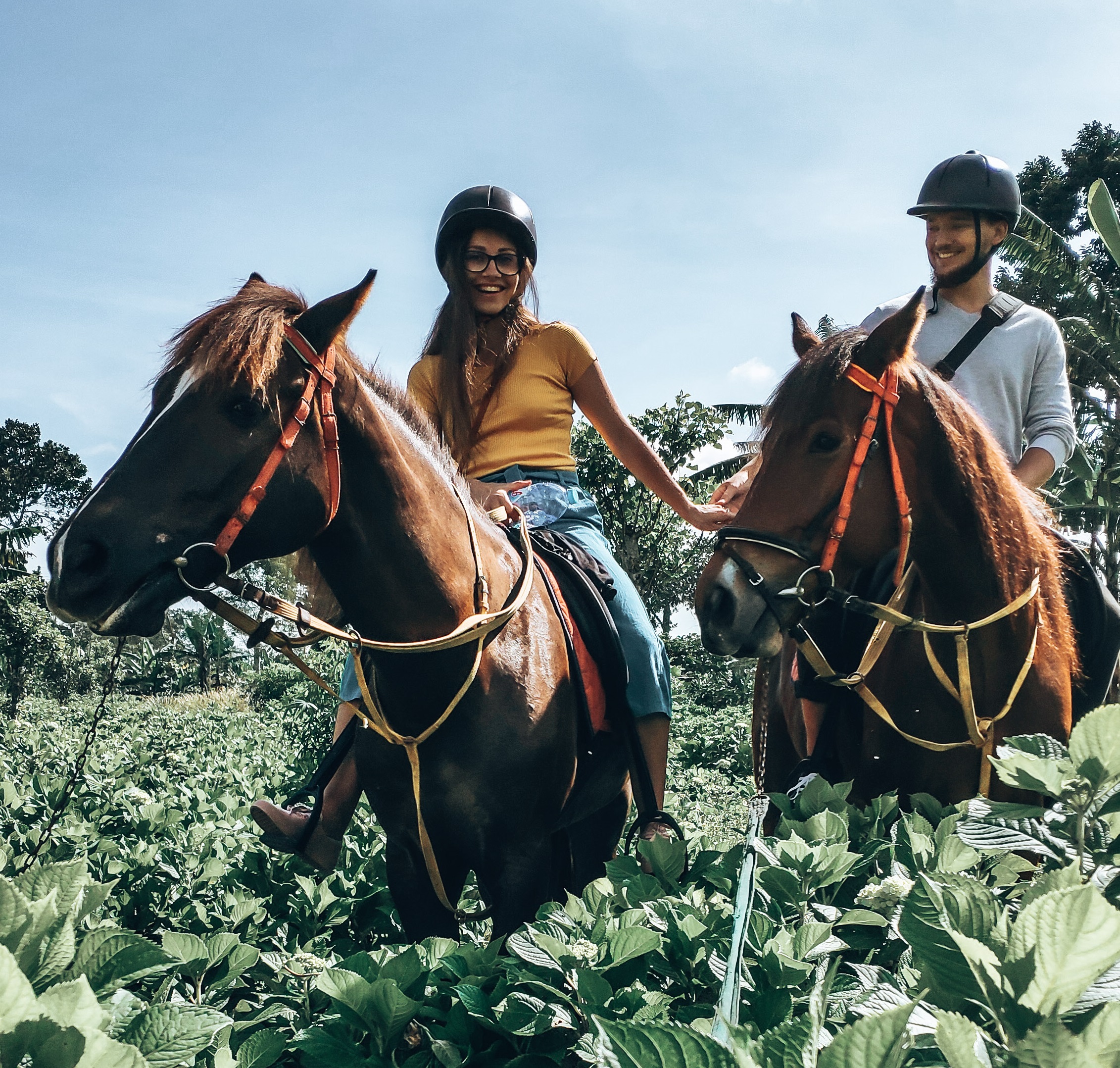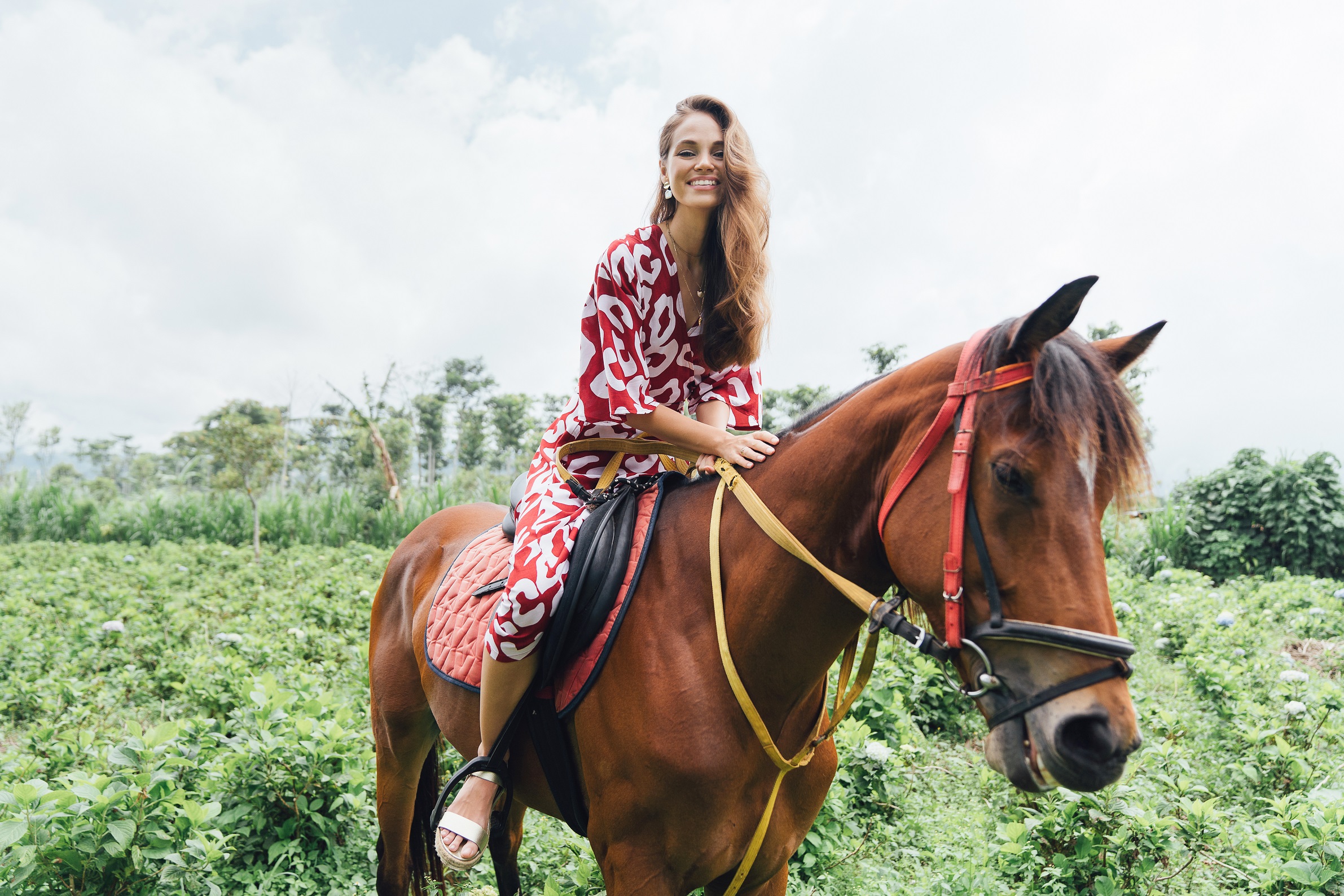 Activities
We have four friendly Bali ponies – the local Balinese horse – which you can ride on the Plantation although it is highly recommended to explore the lakes and countryside in the vicinity on horseback. Longer trips can be arranged, including full day exploration of the rainforest.